The Centenary suburbs of Brisbane – from Jindalee to Springfield – has always had limited social sporting options (across all sports). Since 2014 from a social sporting perspective, TRL in West Brisbane has grown in both statute and size featuring more than two dozen seasons during this period.
Middle Park Mondays has been the backbone of this growth, with the competition's home of Peter Lightfoot Oval. This competition consistently boasts multiple divisions across Men's & Mixed competitions, offering teams and individuals of all abilities, the opportunity to play Australia's fastest growing social sport, at their own pace. Venue Manager Georgia Scott believes the enthusiasm and passion that the teams display on and off the field has inspired her to love TRL evenmore than she thought she could. "West Brisbane sets itself apart from the rest of TRL through the camaraderie that is displayed on the fields and the friendships that can be seen off the fields".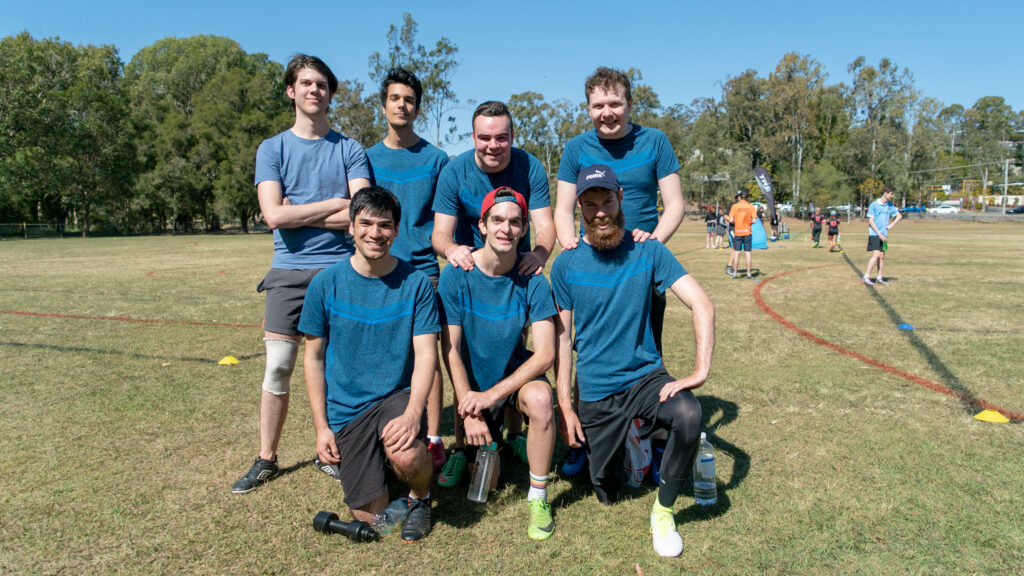 Richlands Wednesdays Venue Manager Sam Borgert (front row, centre) with his first West Brisbane team he led in 2018.
Richlands Wednesdays, West Brisbane's latest but most lively competition, features a host of social and competitive teams who now call this new TRL hotspot, home. In the 2020 edition of QLD State Championships, Richlands will feature for the first time with a strong Mixed Cup team, ready to do the region proud. The backbone of this competition's growth in recent seasons has been new social teams, giving TRL a go for the first time. Immense recognition has to be given to Venue Manager Sam Borgert, for his dedication and committed support to building Richlands Wednesdays.
Sam lives and breathes the successes and challenges of this competition and has quite a personal spot for it. "The aspect of Richlands I love most is when our representative teams engage with our new teams. From teaching new skills to explaining rules, they take this onboard themselves without any prompting. Considering the West Brisbane Mixed team is currently Australian Championships, its humbling to have a successful community on the field but what I admire most about them, is what they do off the field.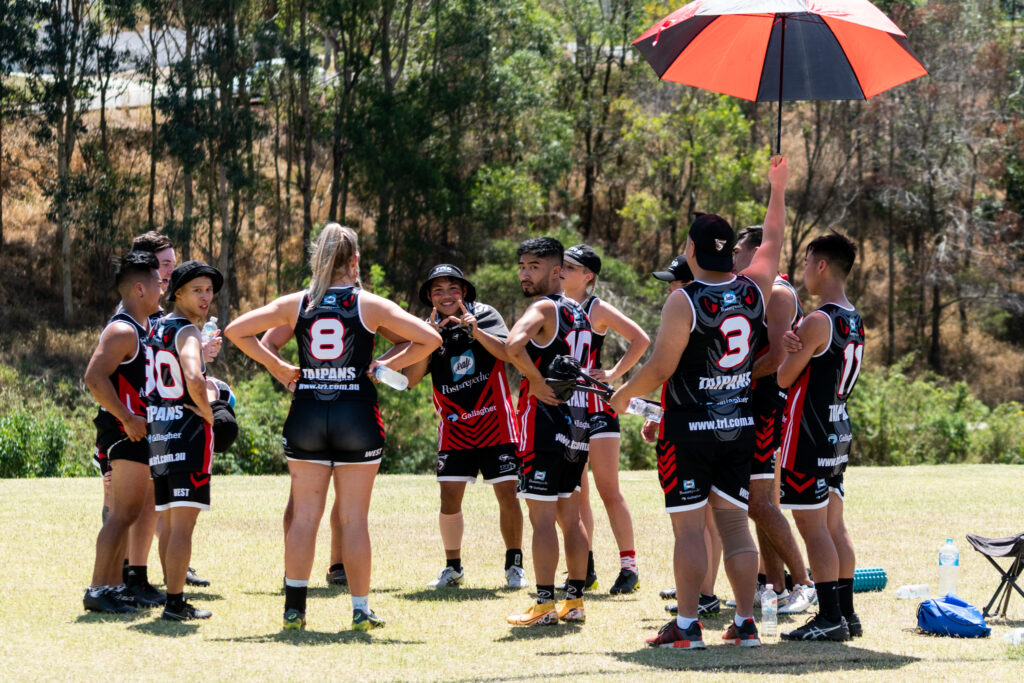 West Brisbane's Mixed Australian Championships team sharing a half-time discussion together before going on to win the 2019 TRL Australian Championships
Lastly, but certainly not least, the OG of TRL competitions – Indooroopilly Sundays – proudly caps out TRL West Brisbane's offerings. Every Sunday afternoon in Indooroopilly, you'll find social teams, bringing down their pets, friends and housemates, all for a relaxing afternoon in the sun. Grill'd Indooroopilly has been a proud partner of this competition for two years and Marissa Hill, who plays in this competition with her "Grill'd & Friends" team, shared the following sentiments, on her time playing TRL. Before the Indooroopilly Sundays competition, I had only played TRL socially with a few work mates. Entering my own team for the first team in the Indooroopilly competition, not only allowed me to play daytime footy but do so in such a social setting. I feel like we get spoilt every week down here by both the Venue Managers and Referees. We couldn't imagine spending our Sunday afternoons differently!".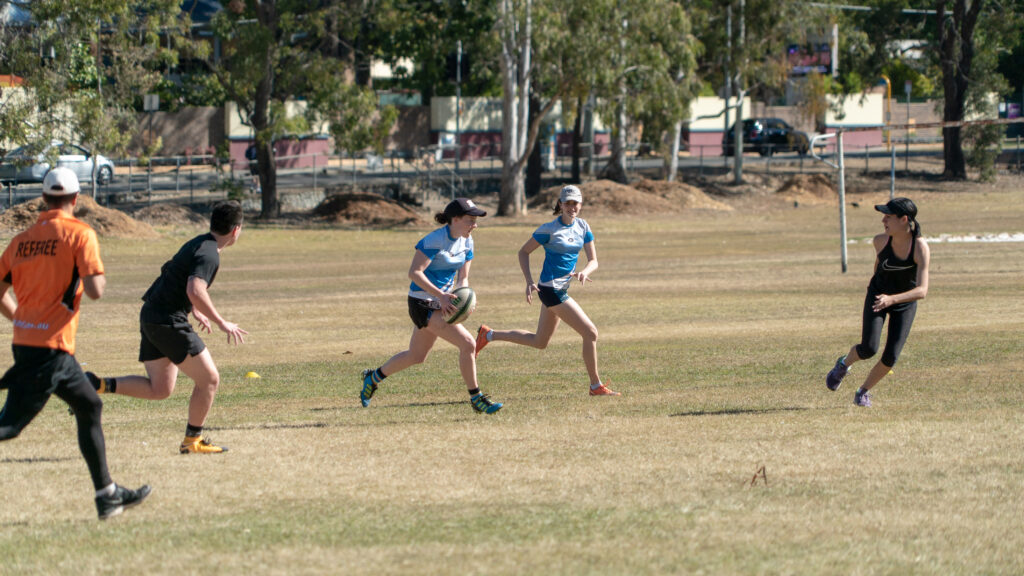 Team Juggernauts (in blue and white) have played in the Indooroopilly Sundays competition for 19 seasons non-stop.
To all the teams, players, staff members and supporters of West Brisbane, you all play a phenomenal part in growing TRL within West Brisbane. No doubt West Brisbane has a bright future ahead, across all three social competitions:
Middle Park Mondays @ Peter Lightfoot Oval
Richlands Wednesdays @ CJ Greenfield Sports Complex
Indooroopilly Sundays @ Indooroopilly State High School
To join as a Team or Individual, please contact Competitions Manager Emma Kurki via emma@trl.com.au or 0431 051 395‬.
Edward Wilson
General Manager
TRL Australia