2019 State of Origin Preview

The 2019 TRL State of Origin Series kicks off tomorrow night at BMD Kougari Oval (Wynnum). There will be four divisions contested: Men's, Women's, Mixed and Men's 30s.
Men's 30s
Starting off with the Men's 30s division, QLD has a number of stars – the most famous of which being Darren Lockyer – that will run out tomorrow night. The likes of Lynch, Rhule and Blumke will form a formidable combination down the edges whilst Chris Orman will give the team speed and spark from dummy-half. 
NSW also have a number of big-game players. Jeremy Chung (one of the best over 30's players in TRL) will be leading from the front as Captain but he will have great assistance from Brad Reynolds and Adrian Cush. Also watch out for Mason Part from the bench who will add zip and speed.
Our prediction – QLD: 2-1. It is hard to back against any team that has Darren Lockyer in it. Lockyer needs no introduction and he has seamlessly transferred his skill and guile to the TRL arena having been playing now regularly across Brisbane.
Mixed
NSW Mixed is a real wildcard in 2019. With an unprecedented number of players from Melbourne, Newcastle and Canberra, the side will have existing and formidable combinations from which to immediately tap into. Joey Cormick – a natural leader – will be tasked with bringing all of the players together during camp tomorrow. Look out for X-factor from Gihan Kanishka and Bindi-Lee Fox.
QLD Mixed have largely had it all their own way over the last three series (2016 being a one-off exhibition game). In saying this, plenty of new faces have joined this team. The likes of Dan Maloney and Harry Wilson have pushed David Browne out of the starting line-up – a testament to the depth and quality within this team. Underrated livewires Dan Cash and Issy Scalia will also bring speed and try-scoring capability to this side.
Our prediction – QLD: 2-1. In saying this, 2019 will be a much closer series than 2018.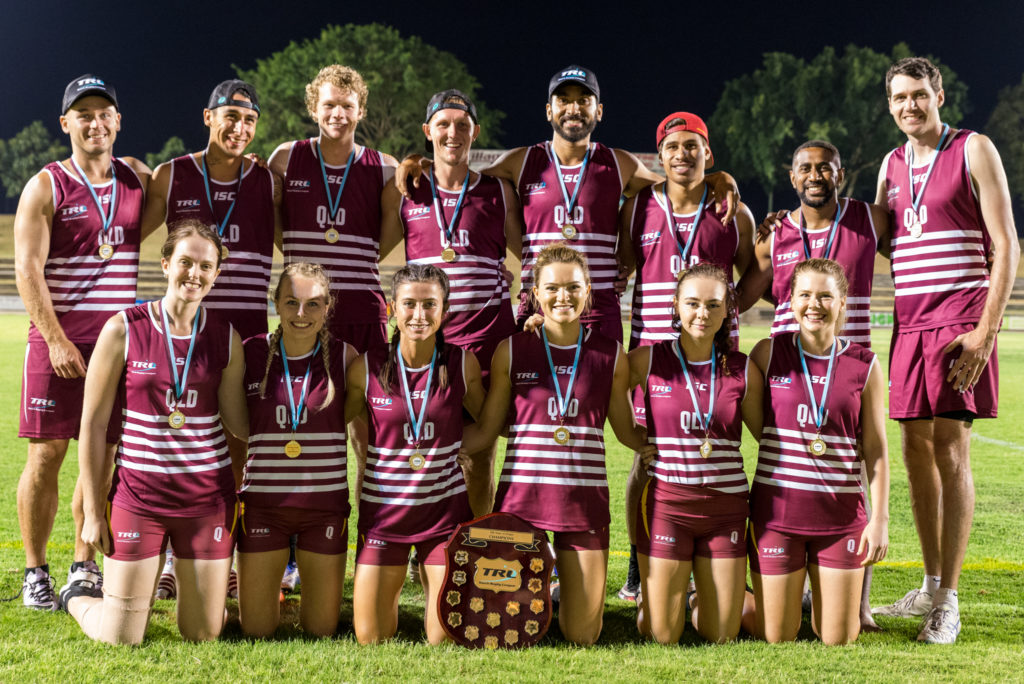 Women's
NSW were deserved winners in 2018 putting on quite a dominant showing in games 1 and 3 to wrap the series up 2-1. They are largely unchanged going into 2019 with the Kapea sisters, Gibbs and Issa forming one of the most deadly quartets in TRL history. Rowsell and Onno round out an impressive starting line-up with plenty of high calibre reinforcements sitting on the bench.
QLD had an interrupted lead-up losing some big name players including Hayley Maddick but have rallied hard over the last month under the leadership of Emma Kurki. Kurki has instilled grit, belief and pride into this team as they embark on trying to win the Shield back. It is a different looking team in 2019 with the likes of Deaves, Mi Mi and Barker being added to the line-up. Some pundits suggest this team is even stronger on paper, than NSW.
Our prediction – NSW: 2-1. Will be extremely tight and arguably the most exciting of the four divisions.
Men's
The NSW Men's side is stacked with natural ability and TRL experience and there is a fantastic balance between and attack and defence across the park. Word on the street is a number of the QLD boys have been talking up their chances of taking a clean-sweep but the reality is, the side they are up against is arguably better balanced than in 2018. Whilst Cox will be difficult as always, there is a plenty of speed across the park and plenty of depth across the bench. Newcastle prodigies – O'Sullivan and Johns – will also add plenty of X-factor to the line-up.
The QLD Men's side is full of talent. Maddick, Keal, Collins and Huynh – household names of TRL. Yet they will face a far better balanced NSW team which will give them a huge test in 2019. They will have to rise to the occasion and play their best TRL to win. Certainly having the likes of Bhullar in the team will provide fantastic leadership and direction – something we believe they will need more than ever in 2019.
Our prediction – QLD: 2-1. Expect this series to go to a decider and go down to the wire.