2019 QLD State Championships Wrap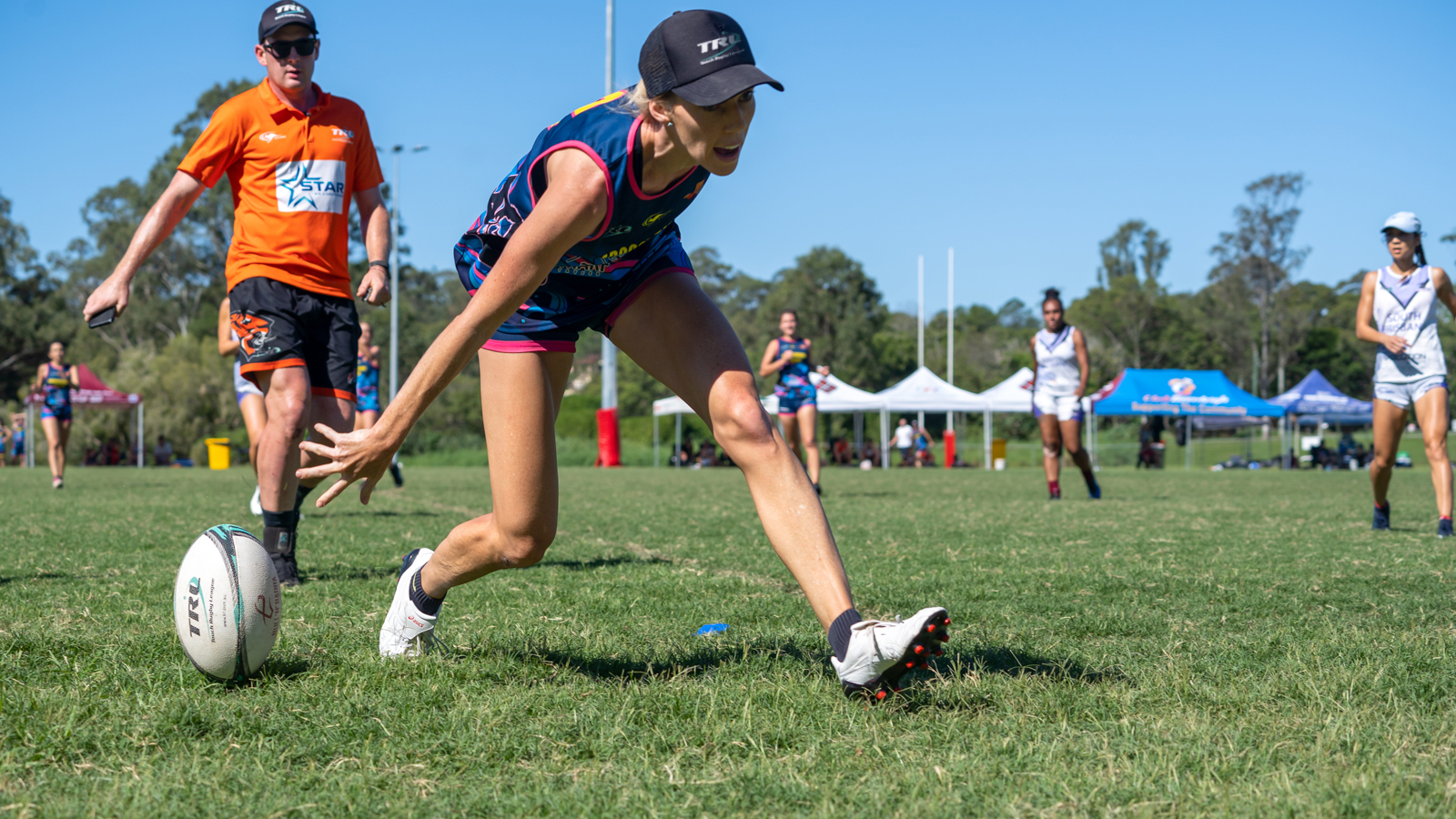 Hayley Maddick scores the game sealing try for the Maroochydore Shakas in the QPL Women's Final (Photo: Jessie Seefuss)
Wednesday April 3
The 2019 Queensland State Championships saw 61 teams compete from Townsville to the Border. All up, just under 1000 players and officials descended on Bill Norris Oval, Beenleigh to compete across 7 divisions: QPL Men's, QPL Mixed, QPL Women's, Men's Cup, Mixed Cup, Women's Cup, Men's 30s.
It was a fantastic 3 days that kicked off on the Friday night with a motivational speech from Rugby League legend, Darren Lockyer. From there, teams played between 7 and 10 games (depending on where they finished) across the weekend. 
Whilst all regions are to be commended on their performance, special mention goes to the Townsville Crocodiles who recorded their first major-Tournament victory getting up in the Men's 30s competition. They were also very competitive in all other divisions and were unlucky not to make the Grand Final for the Cup Mixed competition. This is testament to the hard work Justin Smith has done to promote the game up North and we cannot wait to see how things progress as we look to the Australian Championships later in 2019.
In addition, the Maroochydore Shakas and Kedron Colts also deserve mention with both sub-regions taking out two titles each. For the 'Shakas, they took out the prestigious QPL Men's and Women's double – to essentially stake their claim as having the best male and female talent in the State. For Kedron, they took out the QPL Mixed and Cup Mixed double. Whilst Kedron is home to the largest competitions in the Country, this is the first success the sub-region has had in 3 years at an elite level.
To the travelling teams, especially those sides from Townsville, Mackay and Rockhampton, we thank you for your continuous support. For the Rockhampton Rush, they also snared victory in the Men's Cup division – well done!
Finally, we pay special tribute to our generous sponsors, Classic, Star Air Conditioning, Logan City Council, Grill'd and of course, the Beenleigh Multisports Association for hosting the Event. We could not have orchestrated this without such assistance.
Below are the full list of Winners and Runners-up.
QPL Men's
Winners: Maroochydore Shakas
Runners-up: Fairfield Pharaohs
QPL Mixed
Winners: Kedron Colts
Runners-up: Carina Cubs
QPL Women's
Winners: Maroochydore Shakas
Runners-up: Sunnybank Samurais
Cup Men's
Winners: Rockhampton Rush
Runners-up: Caloundra Jellies
Cup Mixed
Winners: Kedron Colts
Runners-up: Ipswich Jets
Cup Women's
Winners: Graceville Giants
Runners-up: Middle Park Pythons
Men's 30s
Winners: Townsville Crocodiles
Runners-up: Wynnum Seagulls

TRL: Touch Rugby League
17K likes
.
.

.