No matter who you are, what industry you work in or where you live, everyone has been effected one way or another by the impacts of COVID-19 in 2020.
When planning for the 2020 Festival of TRL began in June, all state and territory borders were closed across Australia and Melbourne was on the verge of a second wave in COVID infections. It was a grim time for many Australians.
We acknowledge that for many of our players across Australia, the social connections they form and experience at TRL, are far more important than the game itself. For our three remaining representative events in 2020, we wanted to embody this approach. As such, the Festival of TRL concept was born, as a true celebration of our sport.
Spanning across five days in mid November, the Festival compromised of three events – State of Origin Series, World Cup & Australian Championships. This Festival achieved many feats:
138 teams;
The most competitive State of Origin Series to date w/ NSW Men's winning their first ever title;
The largest World Cup to date, eclipsing the record set in 2019;
The largest Australian Championships to date, despite Sydney and Melbourne teams, unable to participate due to COVID-19 border closures;
First six-a-side Mixed structure at these events;
Largest Mixed competitions at any representative event; and
Spectators welcome at representative events for the first time in 2020.
STATE OF ORIGIN
The 2020 Series was the most competitive to date, with three of the twelve fixtures going into extra time drop-off. The competitiveness of this Series, showcased the expansion of our representative scene and the growing pool of talented players, now competing at the highest level.
The NSW Men's led the squad from south of the border with two convincing wins to square the series away with a game to play. Their Men's 30s counterparts were able to take the second game of their Series to extra time drop-off but QLD proved too strong, even without their 2019 star player, TRL Ambassador Darren Lockyer.
The QLD Mixed, made up of the Australian Mixed team that was set to compete in the World Cup later in the Festival, put on a good show of skill and cohesion to win all three games against NSW Mixed. The NSW Mixed team featured the majority of players from south of the QLD-NSW border and have to be commended, despite COVID-19 border closures and thus, limited preparation time, were able to gel well as a squad.
The Women's Series though proved once again to be the pinnacle. Two of the three games ending in extra time drop-off and one only point separating both teams in the third, no one could ask for a more entertaining and competitively fought Series, with QLD taking home the winner's shield.
All players from QLD & NSW should be proud of their selections and we thank them for their participation in the 2020 Series.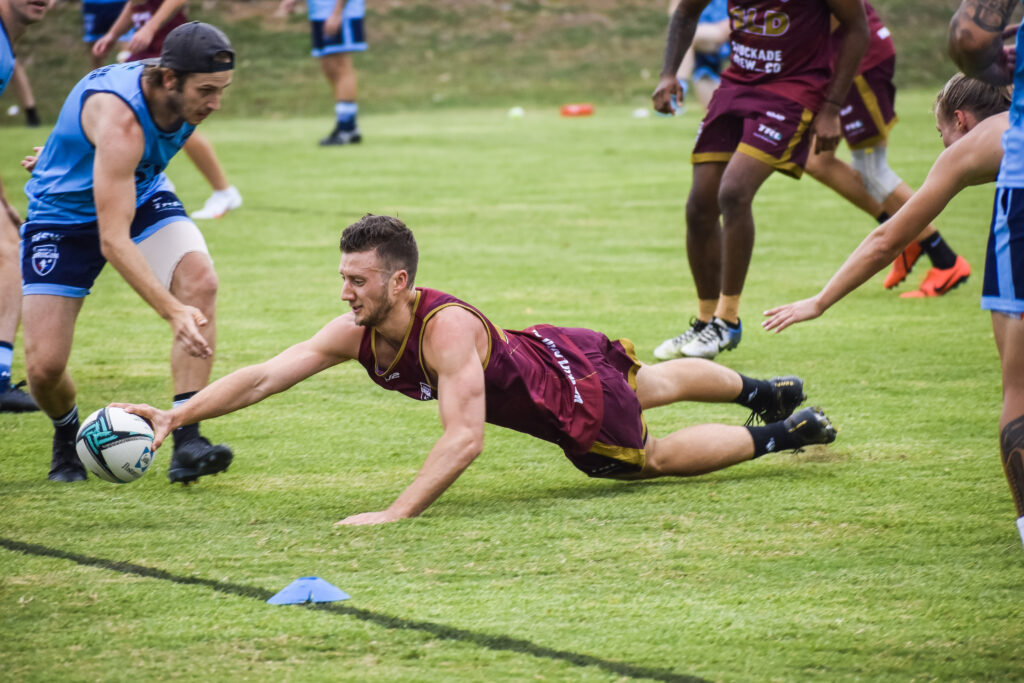 Harry Wilson dives to score a try for QLD Mixed against NSW Mixed
WORLD CUP
The 2020 edition of the World Cup, not only broke records for participation but ushered in eight new nations for players to represent. This growth in participation numbers, reflects the core enthusiasm associated with this event and was the perfect celebration of TRL.
Despite international borders closure, providing players with the opportunity to represent their ancestral heritage, enabled members from all corners of the TRL community to not only learn more about one another but proudly wear their ancestral colours with pride. This passion was illustrated by Lauren Shingles, who led the Swedish squad to their second World Cup. "For me, I'm proud to wear the blue and yellow, representing my mother's side of the family. I personally have spent time living in Sweden when I was younger and subsequently, the opportunity to proudly represent Mum and parts of my childhood, couldn't be missed".
The event ended in fascinating style with the Men's WCPL Final, going to extra time after the scores between Papua New Guinea and New Zealand were locked at 1-1. Papua New Guinea got the win in extra time, with headlines of their victory, making international news. "The emotions post game are a true reflection of what this win means to the players, the wider squad but also the entire nation back home. We're so proud" – Eddie Bray (Papua New Guinea Manager).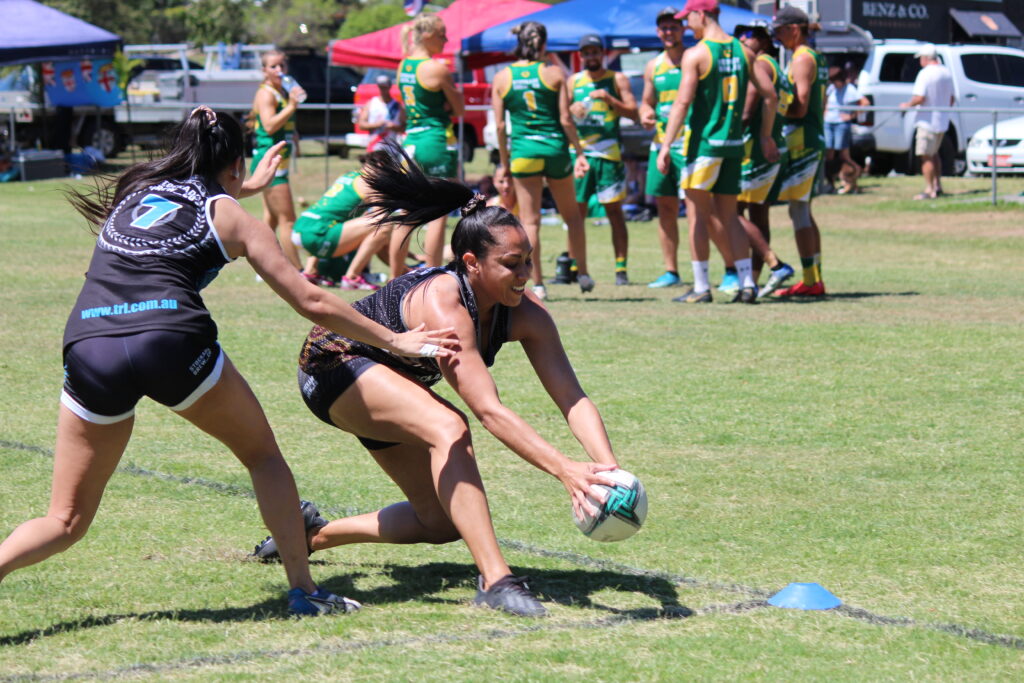 Sharn Tanner stretches out in an attempt to score in the corner for Indigenous Mixed Cup against Greece Mixed Cup Zeus
AUSTRALIAN CHAMPIONSHIPS
The third and final event for the 2020 Festival of TRL was the pinnacle of the year for so many. The 2019 edition of this event, offered an incredible three days of competition with 71 teams competing. Despite border closures restricting participation from Sydney and Melbourne, the 2020 edition still shattered multiple records for participation.
The 26-team, four-pool Mixed Cup competition, showcased the increasing desire for Mixed teams from all regions. With only eight teams qualifying for Finals, this competition alongside Mixed APL was competitively fought, with the game of the Championships coming in the Mixed APL Semi Final between Redlands & West Brisbane. This game went to drop-off, after ten minutes of extra time, couldn't split the two sides.
In total, five of the Finals Series games went into extra time, including the Women's Final between South Brisbane and East Brisbane. The growth of the Women's competition combined with the expansions of the Men's & Mixed pools, highlighted the sheer competitiveness of all competitions and the teams regions continue to produce for each event. It is humbling to see our sport grow nationally on this scale and provides a very promising future for 2021 and beyond.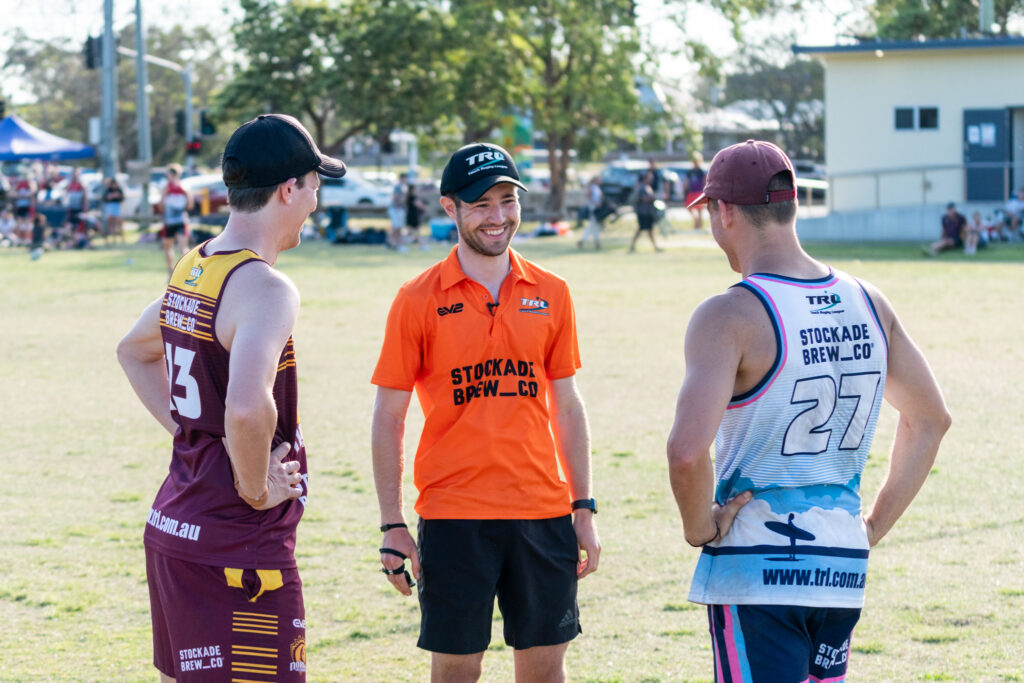 Ben Parker (Referee) shares a laugh during the Men's 30s Final Pre-Game Briefing, with North Brisbane Men's 30s Captain, Mason Part & Gold Coast Men's 30s Captain, 
—
These events are not possible without the support of our major partners:
EV2 Sportswear – Producing 138 teams' uniforms for the entire Festival is no easy feat and we are grateful for their commitment and enthusiasm throughout a challenging 2020. We look forward to working with EV2 Sportswear in 2021 and beyond.
Brisbane Economic Development Agency (Brisbane EDA) – For two years, TRL Australia has proudly shared a partnership with Brisbane EDA, who have provided immense support to enable our major events to take place in the city of Brisbane. We thank Brisbane EDA for their support throughout 2019 & 2020.
Stockade BrewCo – As the Major Event Sponsor throughout 2020, Stockade BrewCo was featured across all uniforms and their presence was proudly felt across multiple facets of the representative calendar. We thank Stockade BrewCo for their support throughout 2020.
Inspire Physio – As the Medical Partner for TRL Australia's 2020 Major Events, Inspire Physio have generously provided their time and expertise, to deliver a safe and manageable playing environment for all. We look forward to working with Inspire Physio in 2021 and beyond.
—
2021 is set to be the biggest year to date on the TRL representative calendar. With the introduction of the Brisbane City vs QLD Country event to all representative events to be played on the Gold Coast, the celebration of TRL will continue throughout 2021 and beyond.
As TRL Australia, we'd like to take this opportunity to thank all players, teams, staff, regions, partners, family and friends – for your tireless commitment, enthusiasm and support throughout 2020. We look forward to celebrating, working and playing alongside you in 2021.
Edward Wilson
General Manager
TRL Australia