The 2021 QLD State Championships Report
The 2021 QLD State Championships was held at the Alabaster Playing Fields on the Gold Coast, April 30 – May 2. The Event was sponsored by Major Events Gold Coast, EV2 Sportswear, Driftwood Social and Inspire Health Services.
The first games kicked off on Friday morning with the inaugural City v Country Championships. This Event was closely contested across every discipline with City edging out Country overall in Women's (pictured below), Mixed and Men's 30s whilst Country took out the Men's open division.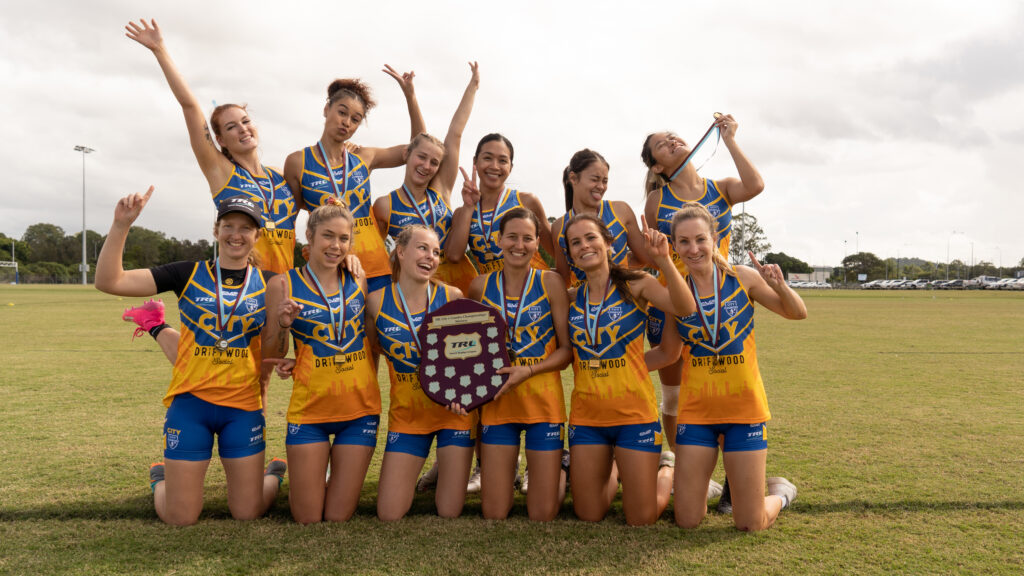 We also had a number of individual awards including best female player (Jenna Rowsell), best male player (Dylan Hennessey) and best Men's 30s player (Francis Otto). It was a fantastic spectacle that saw the very best TRL talent from across QLD get to compete on the big stage. We were also lucky enough to be joined by Darren Lockyer who was a guest commentator on our livestream and who also presented the awards and medals to the winning teams. This was the first year for this prestigious new concept and it was a resounding success.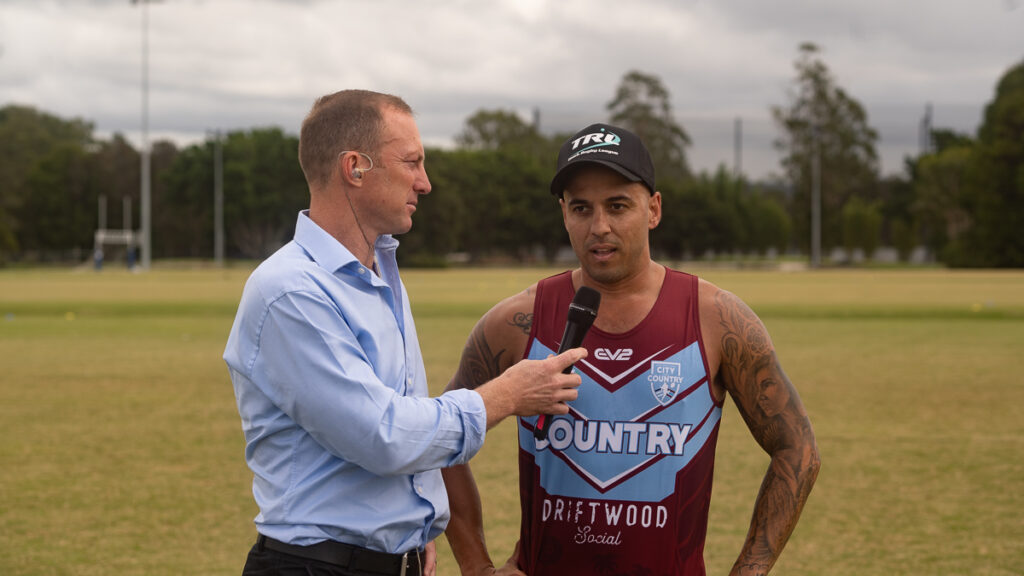 At 12:30pm sharp, we then officially opened the Tournament with over 74 teams playing 7 rounds (+ Finals) across Friday, Saturday and Sunday. Despite the inclement weather, we were able to complete all fixtures. The standard of both playing and refereeing was immense and the sportsmanship was even better. The spirit in which all players engaged with each other and the referees was highly commendable. There were obviously a number of standout performances which we will dive into below.
Men's Cup
In the Men's Cup division, there were a number of standout teams through the rounds. In particular the Carina Cubs, Kingston Kings, Middle Park and Beenleigh teams. It was an incredibly tight division and it was really open heading into Sunday's final series. In the end, the Kingston Kings came up against the Middle Park Pythons in a game for the ages. When all was said and done, it was Middle Park that came away victorious. An incredible result for a region that continues to punch above its weight at our elite Tournaments.
Mixed Cup
The Mixed Cup division was full of players that on first glance, could easily have been playing QPL such was the talent across this Tournament. Rockhampton, Robina, Kedron, Beenleigh, Carina, Redlands and Fairfield were all pretty hard to split through the rounds. Kedron arguably went into Sunday as favourites but the guile and elite-experience of the Carina club saw them rise to the top to face off in an all East Brisbane final. In the end it was the Carina Cubs Orange side edging out the Carina Cubs Black side and adding another piece of silverware to the clubhouse of East Brisbane.
Men's 30s
No longer the division for retirees, the Men's 30s competition gets more competitive every Tournament. There were a number of gun sides that thrashed it out over the weekend featuring household names such as Francis Otto, Terry Rodgers and Mason Part. Per the form guide, Kedron Colts faced off against Graceville Giants in the Grand Final. It was really going to be anyone's game but it was arguably the guile, experience and the continuity of the playing roster at the Kedron Club that saw them prevail. A huge congratulations to 'Colts player, Bradley Batterham for also taking out the player of the Tournament for Men's 30s.
Women's Cup
It is back baby! Women's Cup is here and here to stay. Thanks to the efforts of Sam Borgert, Jayne Le, Anna Huynh and Shelby Maddick we were able to produce enough Women's teams to genuinely provide this opportunity for our up and coming female stars. As we moved into Sunday and the business end of proceedings, it became a battle between the supercoaches, Maddick (Petrie and Maroochydore) and Borgert (Kedron and Bardon), as these four sides battled it out in the finals series. In the end, Maroochydore prevailed to bring yet another award back to the Maddick household.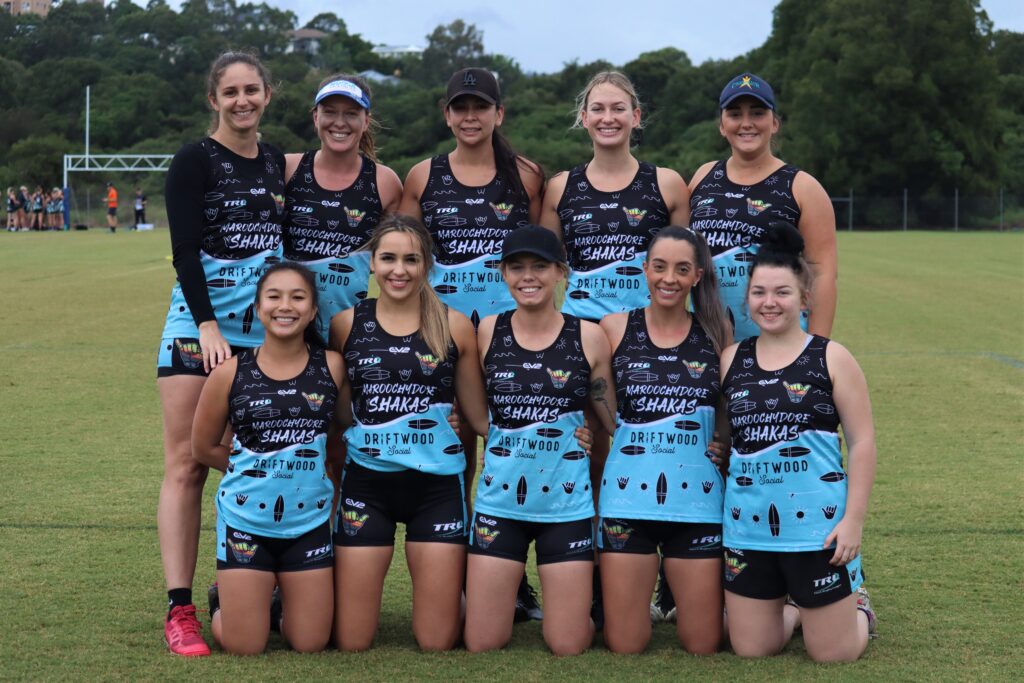 Women's QPL
One of the glamour divisions of the QLD State Championships, there were three juggernauts which were arguably always destined for Sunday's showdown – Mt Gravatt, Sunnybank and Kedron. Kedron had an amazing Tournament led by inspirational skipper, Bec Simson. Unfortunately they just could not get the job done in their semi final against Sunnybank. I can though see their bellies burning and I get the feeling they are going to emerge in the next 18 months as the dominant team.
The cross highway rivalry between Mt Gravatt and Sunnybank just seems to gain traction each year and it was not surprising to see them again front up against each other on Sunday morning in the Grand Final. These two teams have traded blows on many occasions with the spoils having been shared. On this day though, Sunnybank (pictured below) were glorious and were just too crisp and too sharp. Jenna Rowsell and Amy Milburn led from the front and they arguably saved their best game for last. Well done to Sunnybank adding another piece of silverware to the South Brisbane juggernaut.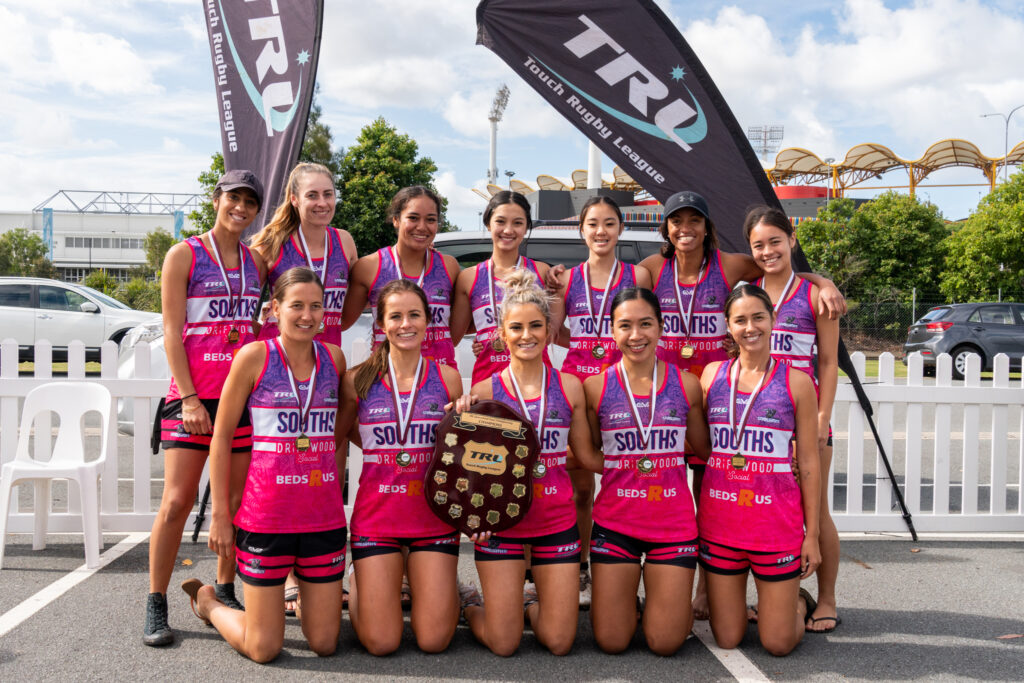 Mixed QPL
When I hear "Mixed QPL" I think of three teams – Middle Park, Redlands and Kedron. Not surprisingly all three were right up there through the rounds but a new force has emerged. The Kingston Kings….wow were they good at times through the Friday and Saturday. Boasting names such as Cox, Hennessey and Lifu Bray, was it any wonder they were going to dominate!?
As we went into the Sunday, they were certainly the favourites but Mixed is often a competition won by the best team and in Middle Park, we certainly saw a cohesive, well drilled, structured outfit. If you look across their list, they have a few big names but it is their ability as a collective that truly makes them standout and have seen them become so successful over so many years.
Almost on cue, Kingston and Middle Park faced off in the Grand Final. Middle Park – saving perhaps their best effort for last – came out of the blocks and blitzed it. Whilst the Kings came back in the second half to make a very tight game of it, Middle Park were just too strong. Hats off to Kingston on their first campaign (new region) at the QLD State Championships. They will build on this effort no doubt for future years. To Middle Park, you are truly one of the great TRL mixed teams of all time!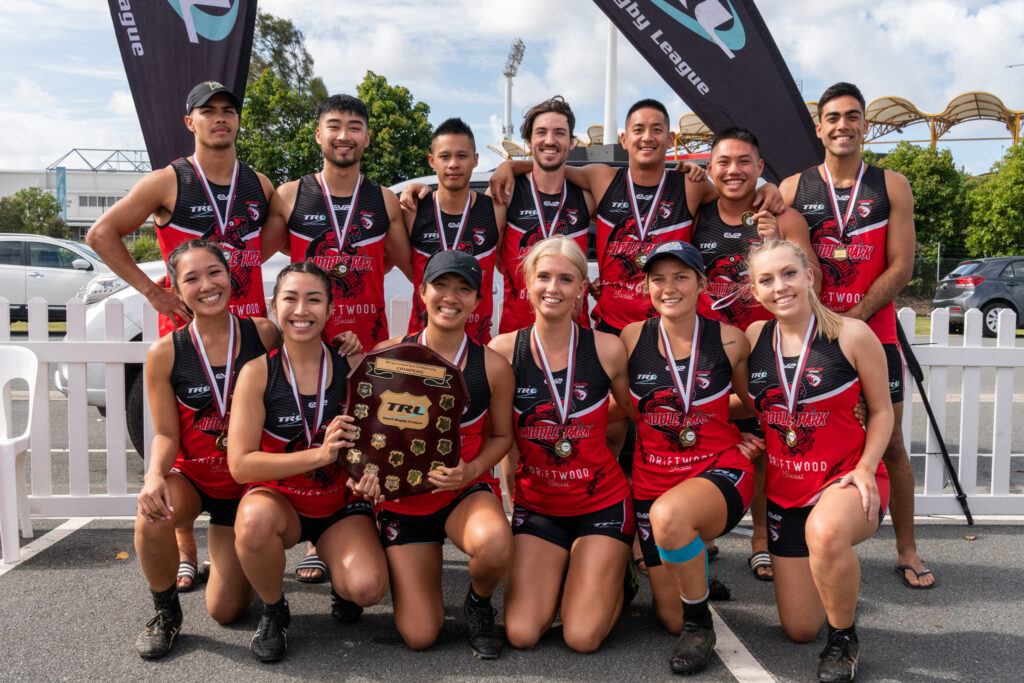 Men's QPL
The harlem globetrotters of TRL, this division is all about the glory. Boasting the biggest names, the best players and even bigger egos, the Men's QPL is an adrenalin filled exhibition of the best talent in TRL. The big 4 of Maroochydore, Petrie, Sunnybank and Kingston were always going to be hard to beat but we saw Ipswich and Kedron really emerge as threats in this Tournament. Both the 'Swich and Kedron play a fantastic brand of TRL which keeps the crowds coming back.
As we moved into the Sunday, we saw Maroochydore play Kingston in a salivating semi final. Both teams deserved to win but as we know, there can only be one winner. On this occasion it was Kingston by a point and arguably Maroochydore losing the mercurial Ben Maddick (to injury) early on Friday may have been the difference. In the other semi final, it was equally as tight between Petrie and Sunnybank. We always knew Marlon Doak (Petrie Pride) was gifted but the "magician" as he is now affectionately known, put on a clinic showing his vast array of skills and magic tricks. Not to be outdone, we saw Samir Edwards from Sunnybank demonstrate why he is considered one of the most improved players in TRL. Samir was in everything and sporting a new-look hairstyle, has ensured his performance has been etched in everyone's minds for years to come. It was a see-sawing battle where the lead changed several times. However, a Doak-Wood trickshot close to the line with a clinical AFL try saw Petrie snatch victory with one minute to go.
We then moved into the Grand Final. Kingston versus Petrie…boy was this a cracker. This game – it had everything. The biggest names, the biggest stars in the game – all there in front of a crowd of nearly 1,000. Both sides threw everything at each other and there were some amazing tries and even better defensive efforts. The game went down to the wire with a number of close calls needing to be made at the back end of the game. Kingston Kings eventually prevailed to take the crown home to the 4114 postcode. Congratulations to Adam Breakspear who managed all teams playing under the Kingston Club.
Individual Awards
There were a number of individual awards which we presented at the Tournament as follows.
Golden Whistle: Ben Parker
Ben refereed many of the top games across the Tournament and has established himself as the number one whistle blower in TRL. He has worked incredibly hard at his craft over a number of years and is well deserved of this award and honour.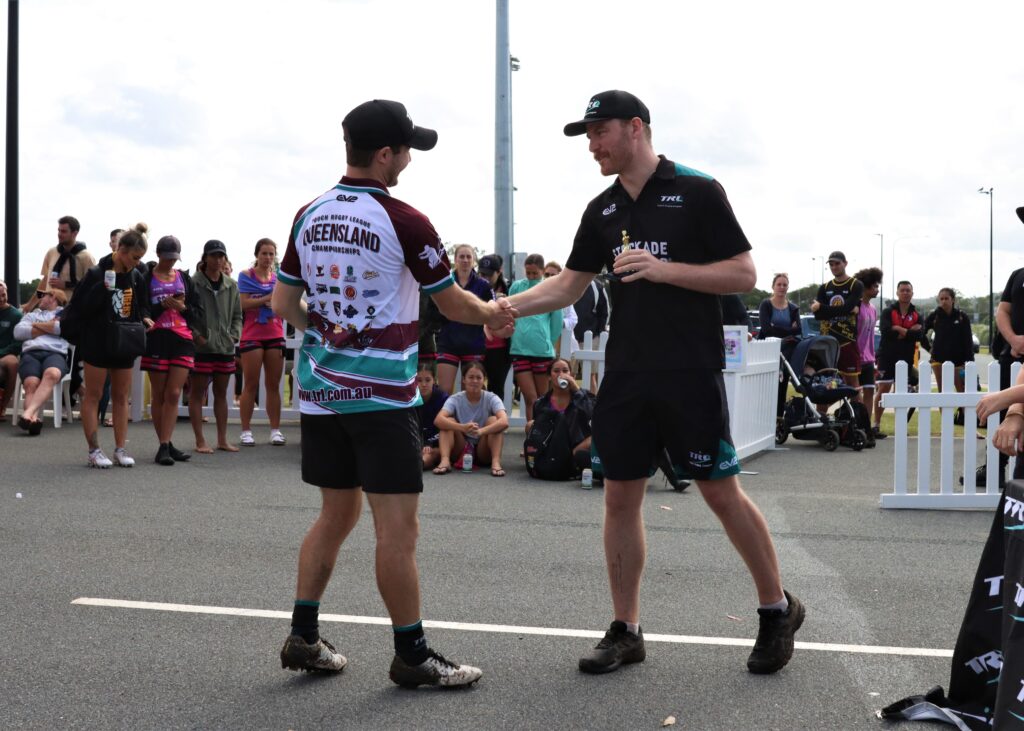 Men's 30s Player of the Tournament: Bradley Batterham
Batterham was barely known heading into this Tournament but scored 10+ tries and set up many more in what was one of the most dominant 30s performances we have ever seen from an individual at an elite Tournament.
Men's Player of the Tournament: Marlon Doak
One of the greats. Marlon doesn't say much – instead letting his footy do the talking. This guy can do anything on the field. We were in awe watching him over the weekend. What a player. Good bloke too.
Women's Player of the Tournament: Amy Milburn
It was hard to split Amy and her teammate Jenna Rowsell for they both had outstanding tournaments. However, Amy made some huge plays defensively under pressure in the semi final on the Sunday and it was this leadership which lifted her teammates and drove that momentum that saw them steamroll Mt Gravatt in the Grand Final.
—
That concludes our report on the Event. A huge thankyou again to our sponsors – in particular Major Events Gold Coast and EV2 Sportswear. We are looking forward to heading back to the Gold Coast in October for our next major Event.
Tom Longworth